We offer a variety of veterinary wet tables with various features to suit the needs at your practice.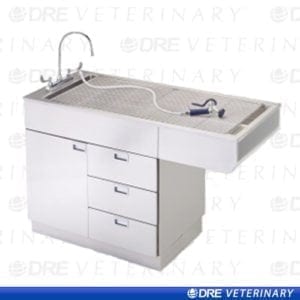 With roughly two dozen styles of veterinary wet tables available, you will find that our team at Georgian Anesthesia and Medical Corp. has what you need when outfitting a new veterinary practice or upgrading an existing one. Besides having a wide selection, our staff is well-versed on the various options, so you can benefit from our recommendations and get answers to any questions you may have.
Our stainless steel veterinary wet tables have many useful features, making it easy to choose one that will best suit your space and needs. Whether you are looking for a bi-level or split-level style, right knee or left knee space, with or without legs, open bottom or storage drawers or doors, 6" or 15" depth, or have other features you are interested in, you can be assured that we have what you are looking for.
It is unlikely that your lineup of veterinary equipment would be complete without one or more veterinary wet tables. We are confident you will be pleased with the quality of our tables, which deliver reliability, longevity, and trouble-free performance. They are constructed with quality stainless steel to give you many years of service.
If you would like to know more about our selection of NSF-approved style 304 stainless steel veterinary wet tables with such useful features as deep tubs and cabinet space, don't hesitate to contact us. Our team is happy to assist you with selecting the perfect one for your practice from our collection. We also carry a wide variety of exam tables and can fulfill your other medical equipment and service needs, as well.