Count on us for assistance with selecting veterinary surgical lights for a new centre or to replace outdated or malfunctioning lights.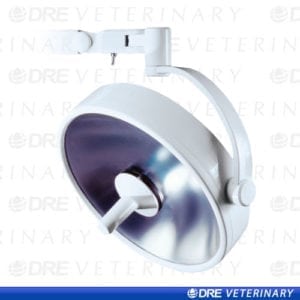 One of the questions we get quite often at Georgian Anesthesia and Medical Corp. relates to our veterinary surgical lights and whether upgrading them at an existing veterinary surgical center is a wise idea. Not only have we supplied an informative blog on the subject, but our knowledgeable staff is also on hand to discuss your options and answer any questions you might have.
We offer DRE Vision LED veterinary surgical lights because we have faith in their many benefits and the advantages they have to offer. You'll appreciate the affordability of these lighting systems, not to mention the longevity and flexibility that they offer. The large-diameter LED array provides exceptional shadow control, and the five-stage dimming controlled by an autoclavable handle ensures you have the appropriate amount of light for whatever surgical procedure is needed. The light array emits virtually no radiated heat, making your surgery room more comfortable and reducing your cooling costs. Maintenance is also affordable, as the LEDs are rated for 50,000 hours before needing to be replaced.
There are several different models of veterinary surgical lights to choose from. If you have any questions that need to be answered while you are deciding which is the best option for your needs, don't hesitate to reach out to us. We would also be happy to assist you with putting together everything you need for a new surgical center or veterinary centre. We offer a very large selection of veterinary equipment, as well as services to set up the equipment and maintain it.