We offer a wide variety of veterinary procedure lights for your exam rooms and surgical applications.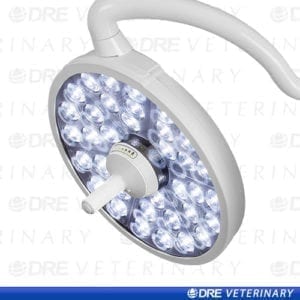 Whether your veterinary practice is in need of one or two veterinary procedure lights or surgery lighting, you will find we have a selection to choose from here at Georgian Anesthesia and Medical Corp. to serve your needs. We have the ideal options whether you are outfitting a new practice or upgrading to gain the benefits that LED veterinary procedure lights provide, along with a knowledgeable staff to assist you with your selection.
There are many different features offered in the various veterinary procedure lights we offer. For example, if you are looking for a broad range of movement and easy positioning of the fixture, the DRE Vision T3 LED procedure light is an ideal option. On the other hand, if a large-diameter surgery light system with five-stage dimming and exceptional shadow control is needed, check out our DRE Vision LED surgery single-head ceiling mount option. Need to have even more light? The DRE Maxx Luxx LED triple ceiling mount will fit the bill. Don't get overwhelmed by the many veterinary procedure lights we have to offer, as we'll provide the support you need when selecting your lights and answer any questions you might have.
Our support doesn't end with your purchase of veterinary procedure lights. You'll always have our assistance, as well as the full medical team at DRE to provide service for all medical veterinary products. Contact us today to learn more or get a quote for any of our products or services.