Vision Series lights are the new standard in surgical lighting.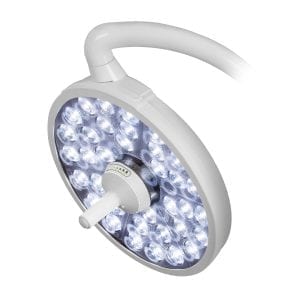 You need proper lighting to do most things in life. But during surgery, proper lighting can make the difference between major errors and a successful operation. Equip your medical office, clinic, or surgical center with surgical lights for the best possible lighting for improved patient outcomes.
At Georgian Anesthesia and Medical Corp., we proudly sell and service surgical lights at medical centres throughout the Toronto, Ontario area. We prefer surgical lights because their models feature higher outputs, larger reflectors, and a larger pattern for improved shadow control. These lights come in multiple sizes with a wide range of features, from adjustable compression spring arms and heat-absorbing glass cylinders to impressive focus distances.
Choose us as your supplier of surgical lights for your medical facility, and we will introduce you to the right fit for your particular needs. For example, we can help you pick surgical lights that can be mounted to the floor or the ceiling based on the types of procedures you specialize in. We can also handle the complete setup and train your staff on how to use the new lighting to ensure your complete satisfaction with this equipment.
Get the best in surgical lighting by choosing surgical lights for your medical facility. Contact us at Georgian Anesthesia and Medical Corp. to find out more about this superior lighting equipment.